LUCKY 13
Lucky 13 menswear designers at FASHIONCLASH Festival 2018 to watch out for in the future.
ALESSANDRO TRINCONE
Alessandro Trincone is an Italian fashion designer and owner of the brand that bears his name. Winning the FASHIONCLASH Festival talent award 2016, he is presenting soon at the official calendar of the upcoming New York Fashion Week Men's.
In his collections, Alessandro has been researching the topic of gender, focusing on genderless clothing and pushing the barriers of what is traditionally considered 'feminine' or alternatively 'masculine' clothing. This continues to be reflected in his newest collection 'Aroundmi'. The collection takes a stance against the 'massification' and globalisation of style. By breaking down the standard parameters, the collection aims to differ from the masses while still keeping an haute-couture taste.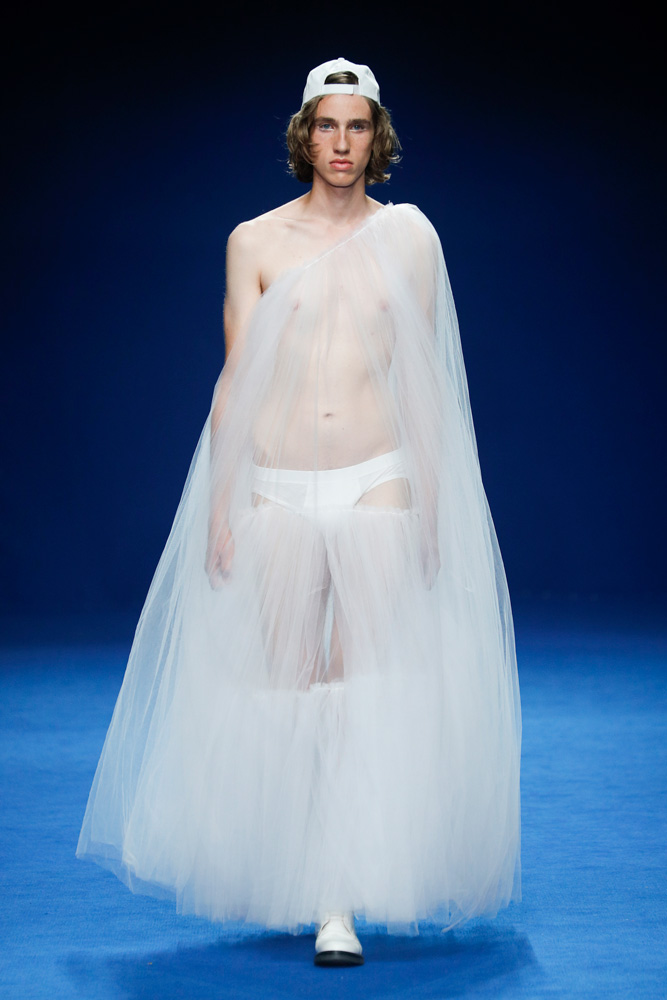 D.A.I.
D.A.I. is a label by Chinese fashion designer Du Qinling. She started her own label DuAsInfinity (aka D.A.I.) after graduating from the London College of Fashion. She presented a collection that is inspired by music, more precisely, Techno music. The music scene has provided people a private zone that differs from their daily life. This collection would do the same.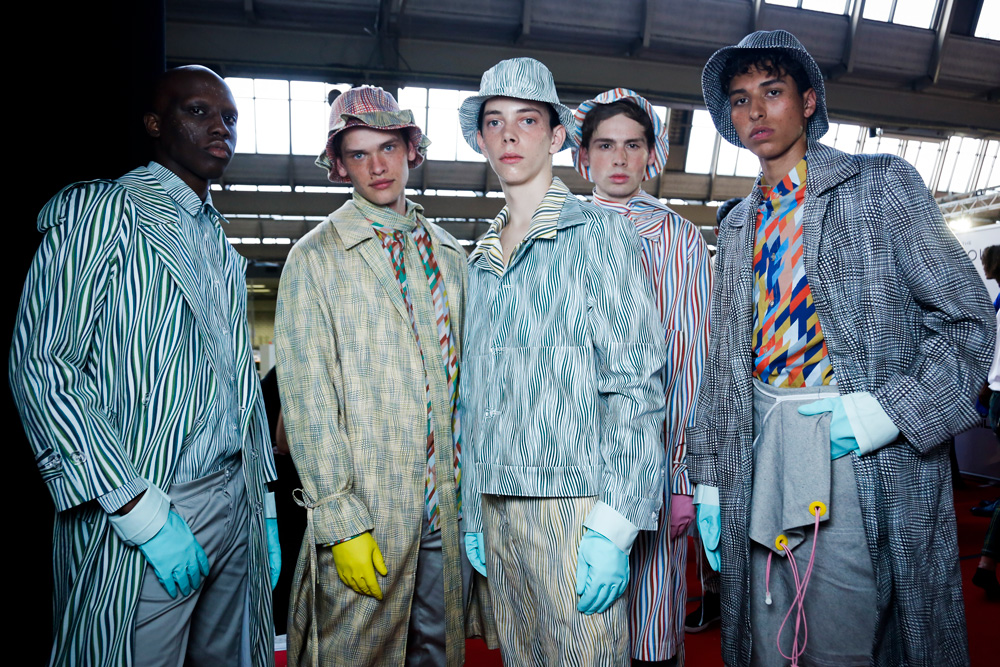 ENNI LÄHDERINNE
Enni Lähderinne from Finland, presented the 'Boy Meets Evil' that explores the world of Herman Hesse's Demian and Abraxas and the belief of God and Satan being one. The collection studies the changes one has to go through to find themselves, as well as the eternal search for a true understanding of God. As a fashion designer she studies gender as a social phenomenon and ways to express and interpret one's gender through clothing. From a biological viewpoint there are only two genders but in reality, there are as many genders as there are humans. One of her goals as a fashion designer is to find ways of self-expression through clothing for those who don't feel like they fit in the gender binary, or the mould our history and society have created for the most of us to fall into. Can this mould be broken with fashion?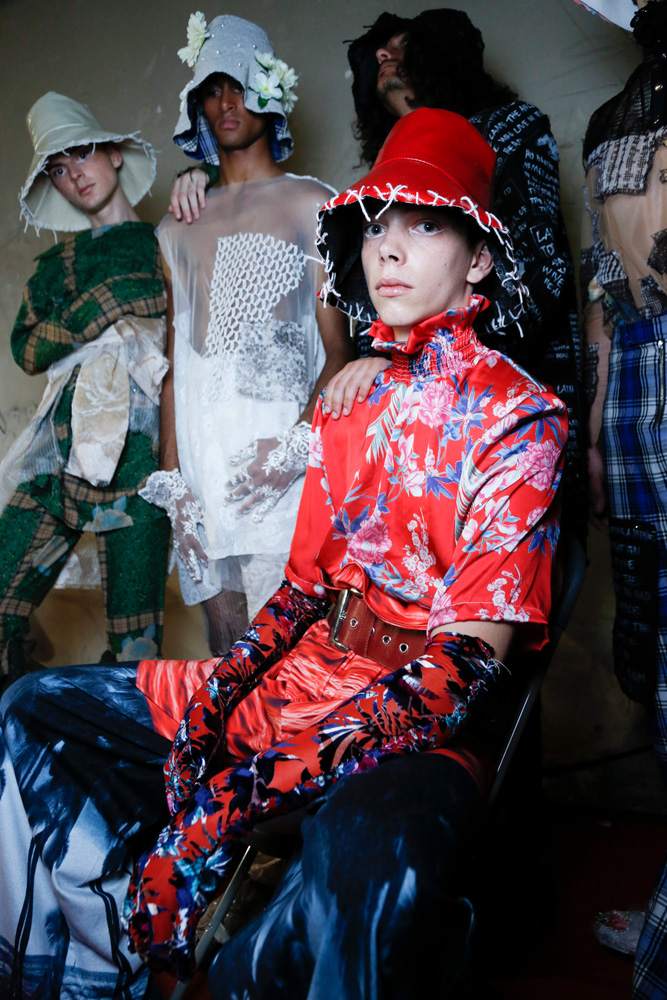 ENCLOTHED COGNITION
Enclothed Cognition is a collaborative project from fashion designer Bregje Cox and visual artist Mark King. The collection is inspired by the theory of Enclothed Cognition. Particularly, how a garment's symbolic meaning paired with the physical experience of wearing the garment combines to impact the wearer's performance in everyday tasks. The Enclothed Cognition collection seeks to empower others by bringing awareness to the interplay between the clothes we wear, the built environment and the human mind.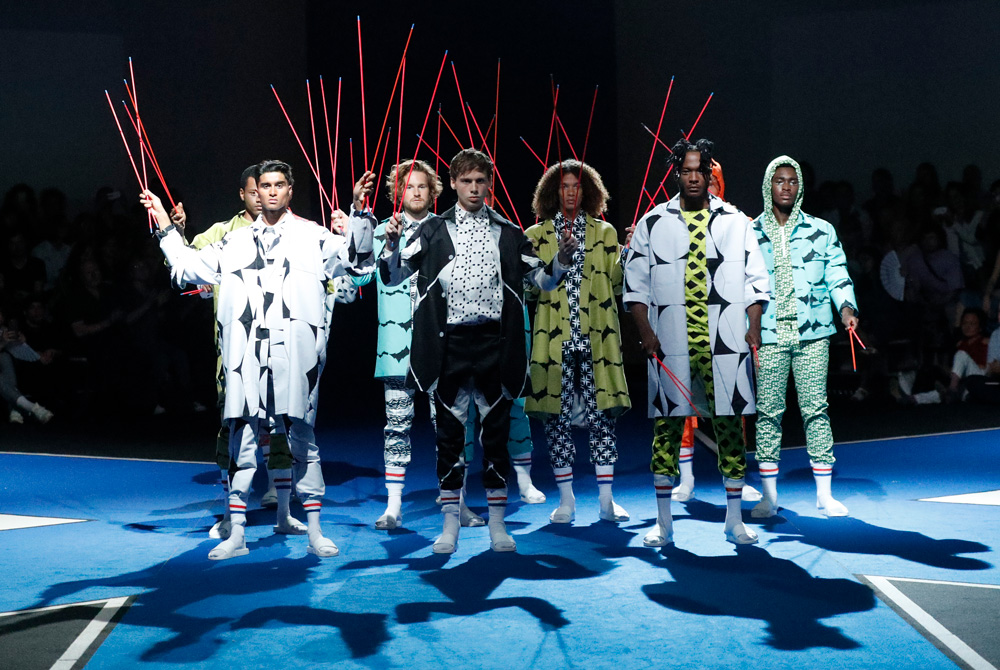 HENKJENZ
Dutch unisex brand HENKJENZ stands for a better world, because of it's involvement with social themes in every collection. We try to approach these social themes from another (positive) perspective. They think this is a way fashion contributes to society.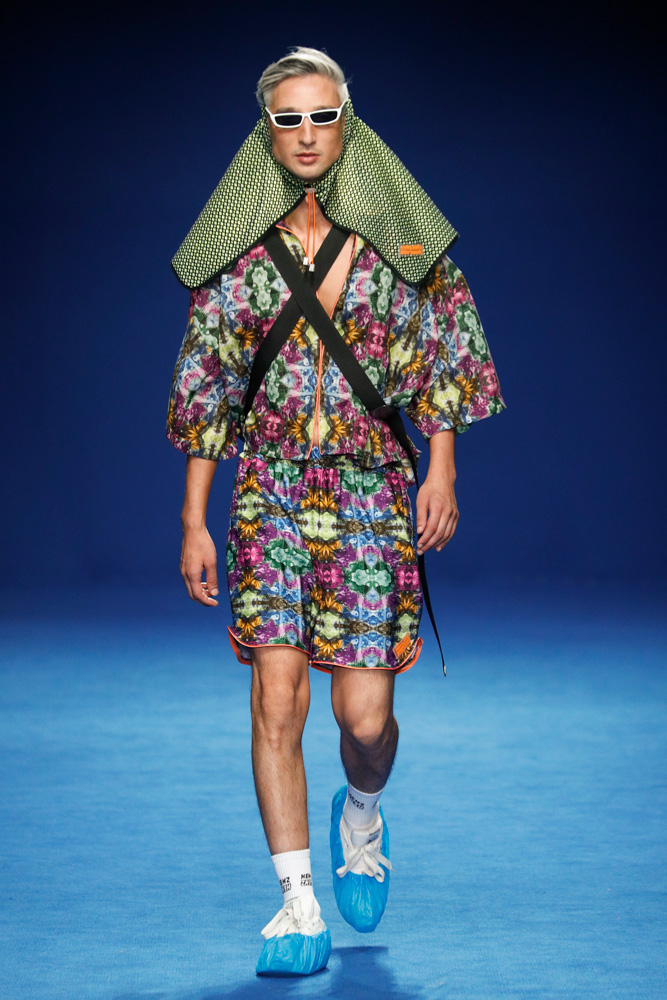 EMILIE THIRION
In her new collection, 'Under Depression' Emilie Thirion explores an illness that she herself has dealt with on a daily basis. Using it as an inspiration, she went even further. By using her own distorted face in the designs, she wanted to become the face of the illness herself. In an exaggerated version of the garments she personally uses, she wants to emphasises how people with depression feel as they are suffocating, while finding it necessary to partake in the 'play' of life.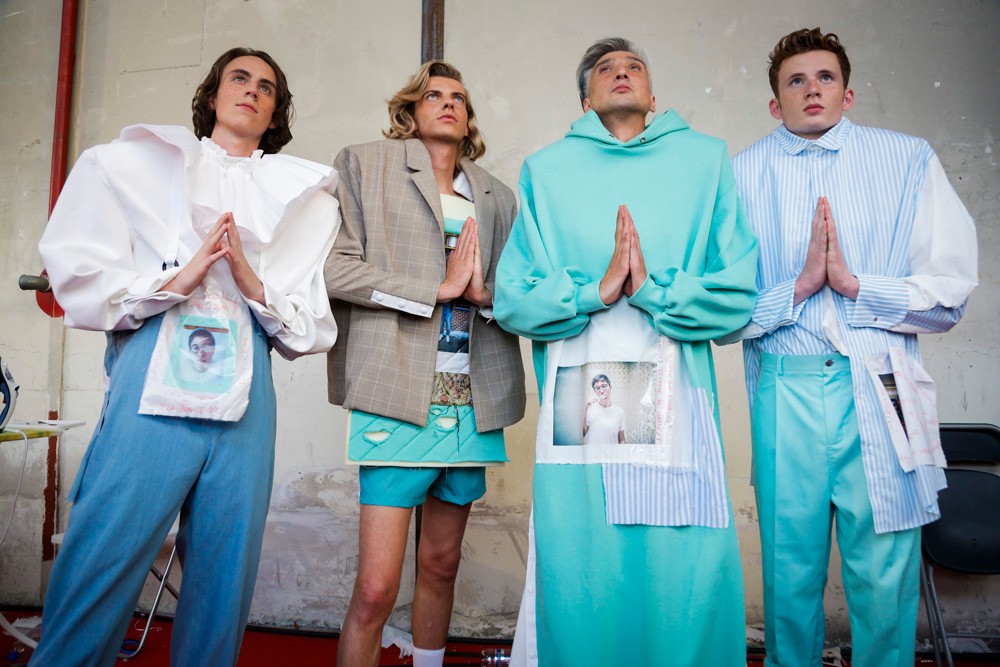 FILIPE AUGUSTO
Filipe Augusto is an emerging designer from Porto, Portugal. He has won the Sangue Novo contest at ModaLosboa, which included participation at FASHIONCLASH Festival 2018. Again, he did not walk away empty handed, he has won the FASHIONCLASH Festival 2018 Talent Award. He presented his collection 'Harvests' that is about harvested memories, speaking of real characters and their strenuous and joyful journey through the traversed Douro. Free spirited, they wear random garments, unwittingly creating their own visual identity, unique and, somewhat, unreal. They become individual beings of an estranged society, apart from a standardized world. Those who harvest what they wring with calloused hands, all of them singular, bring forward secrets and stories of a long-gone Douro which, in its impotence to change itself, complies with the colors bestowed upon it by the seasons.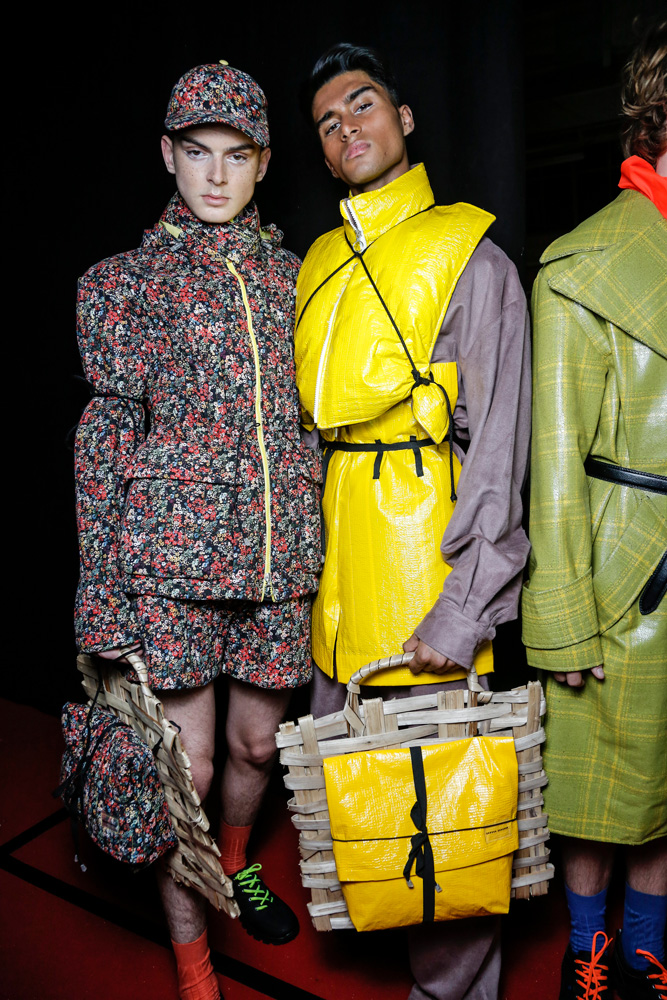 JACQUELINE LOEKITO
Born in Jakarta, Jacqueline Loekito moved to London at the age of 19 in order to study Fashion Design at UCA. Recently she completed master at the The Institute of Fashion Design Basel and presented her collection at the Doing Fashion Show 2018. Her new collection, 'PAPIN MADNESS' continues with this theme, going against the statement 'girls wear pink and boys wear blue'. She builds upon an idea of 'similarity', where everyone can wear whichever clothes they choose, challenging men to wear heels, dresses and pink.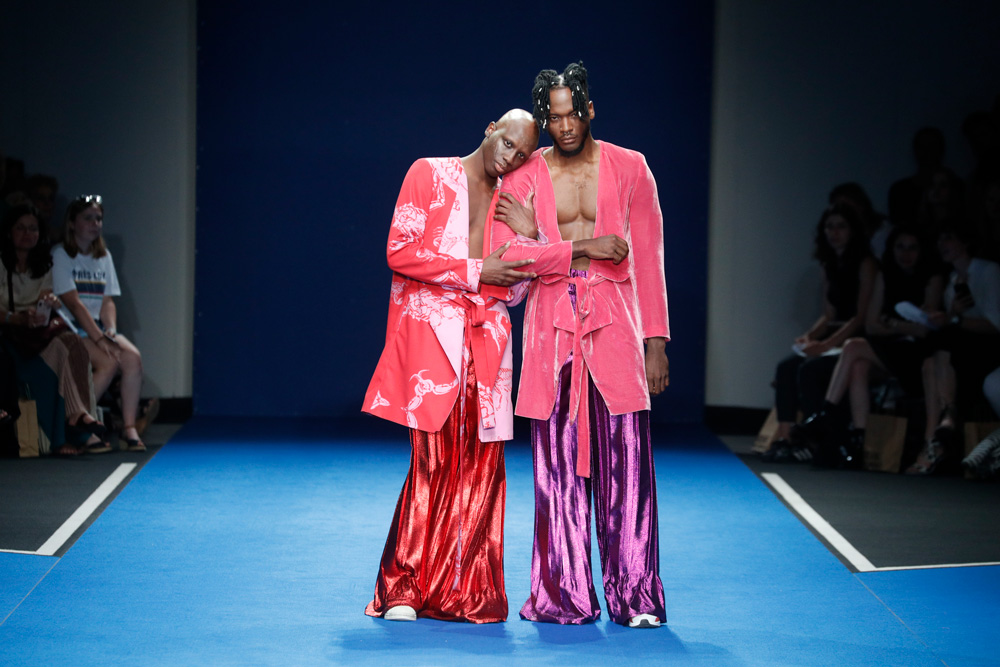 GIULIA FARENCENA CASARO
Italian designer, Giulia Farencena Casaro is a promising Polimoda student. Her new collection 'Scarification', in line with the theme of 'Fashion My Religion!' explores the idea that through the rise of the digital world, a lot of traditional religious values have been lost, particularly that of sacrifice. In Christian faith, God sacrificed himself for us to be saved. It is this appreciation for humanity, and the gestures of kindness and authenticity that she is exploring in her collection. By using authentic and traditional materials, she is studying this theme through the lens of her home region, South Tyrol.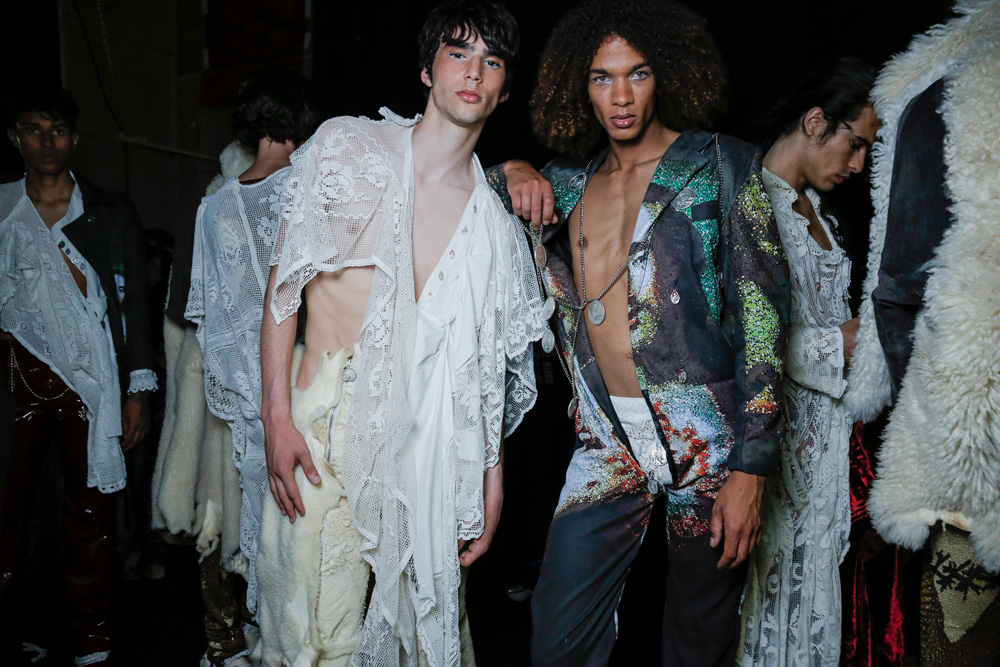 MATTEO CARLOMUSTO
Matteo Carlomusto is an Italian menswear designer. In his first capsule-collection, exhibited in a show and in a presentation during Pitti Uomo, he experimented a mix between sportswear and traditional female costume of the Islamic culture, the burqa. Further in his work he has brought together the conservative world of Islam and the sexual practice of Bondage. The aesthetics of his new collection, MURCIELAGO SS19, builds upon this concept, however merging it with a fresh and rude taste. The collection is a claim and exaltation of erotic charge, arrogantly riding the road like a green Lamborghini Murcielago.
RITA SÁ
Rita Sá from Portugal reflected her emotion in her collection 'Glass ceiling', which is centred around the saying in Portugal that 'if you have a glass ceiling, don't throw rocks in the air'. The collection explores the world of hypocrisy of the individuals who believe that it is better to be a false somebody than a true nobody. In a gradational process, the collection exposes the vulnerabilities that we try to hide.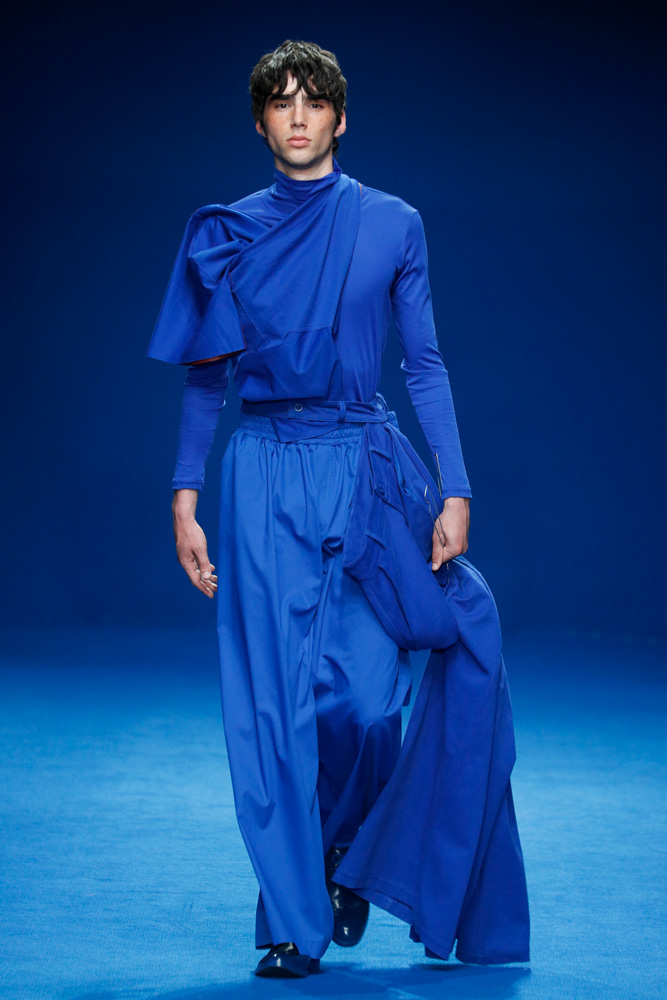 PU TIANQU
Pu Tianqu is a Chinese fashion designer, graduated from the Insituto Marangoni, specializing in patternmaking, print and graphic design. His menswear collection, 'Office Boy', explores the balance between 'following the rules' and freedom. Our individual desires inevitably, to different extents, go against societal rules. Pu Tianqu explores whether there is a balance to be found. What would we wear to work if we could wear whatever? Can we combine that with what we should wear?
Pu Tianqu has been selected to represent FASHIONCLASH Festival at ModaLisboa - Lisboa Fashion Week SS2019.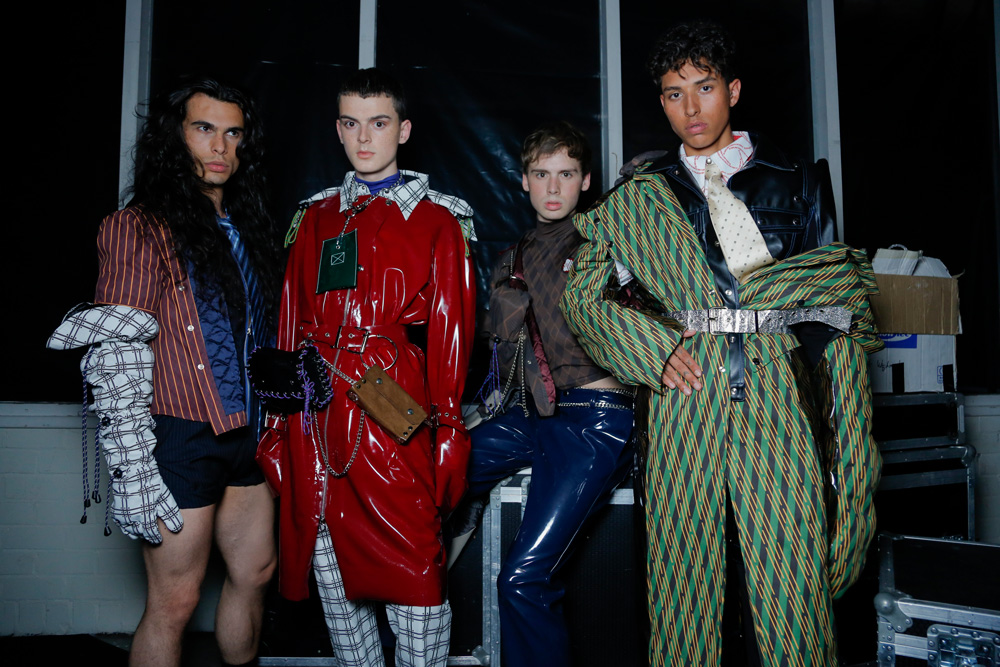 TEUN
Teun Seuren, is a Dutch designer who graduated from HKU University of the Arts Utrecht. His work gives of a message by posing questions with different perspectives such as homosexuality gender and vulnerability. For this collection, 'I Decline', he has been inspired by the theme of the FASHIONCLASH Festival 2018, Fashion, My Religion!. His collection explores the relationship between religion and gay power, making a statement about being gay and having faith.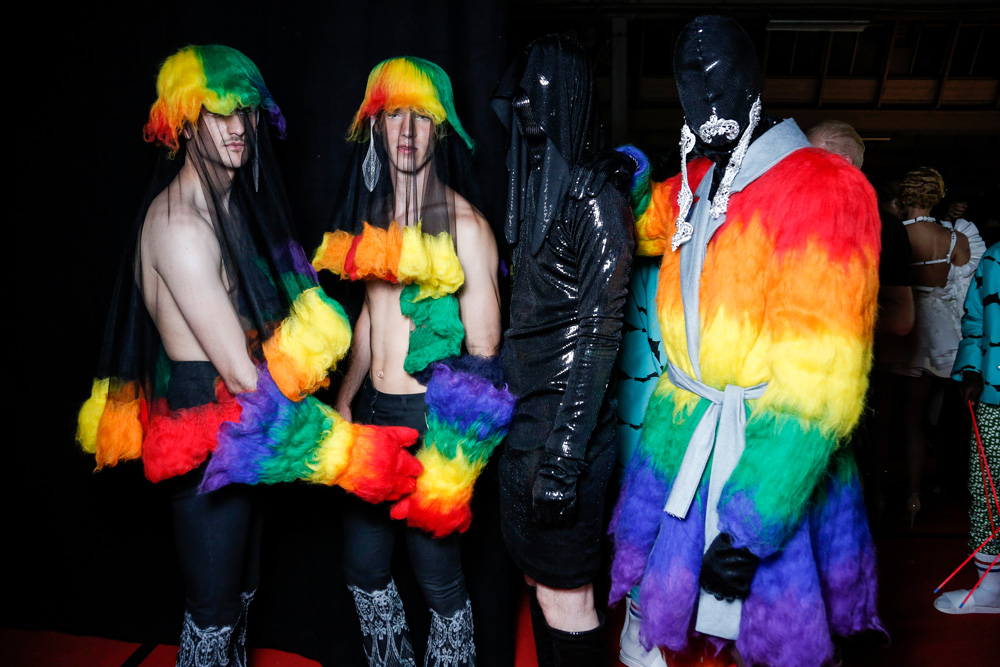 Photo Courtesy: Team Peter Stigter
MORE INFO
View Also