THE TALK : SUAD GARAYEVA-MALEKI
We met with the new Artistic Director of YARAT Contemporary Art Space Suad Garayeva-Maleki the day before she left for Bologna, - where she curated the exhibition «It's OK to change your mind!» -, to ask her about the price of success for contemporary artists, relevant topics in contemporary art and why the works of Mark Rothko are worth millions.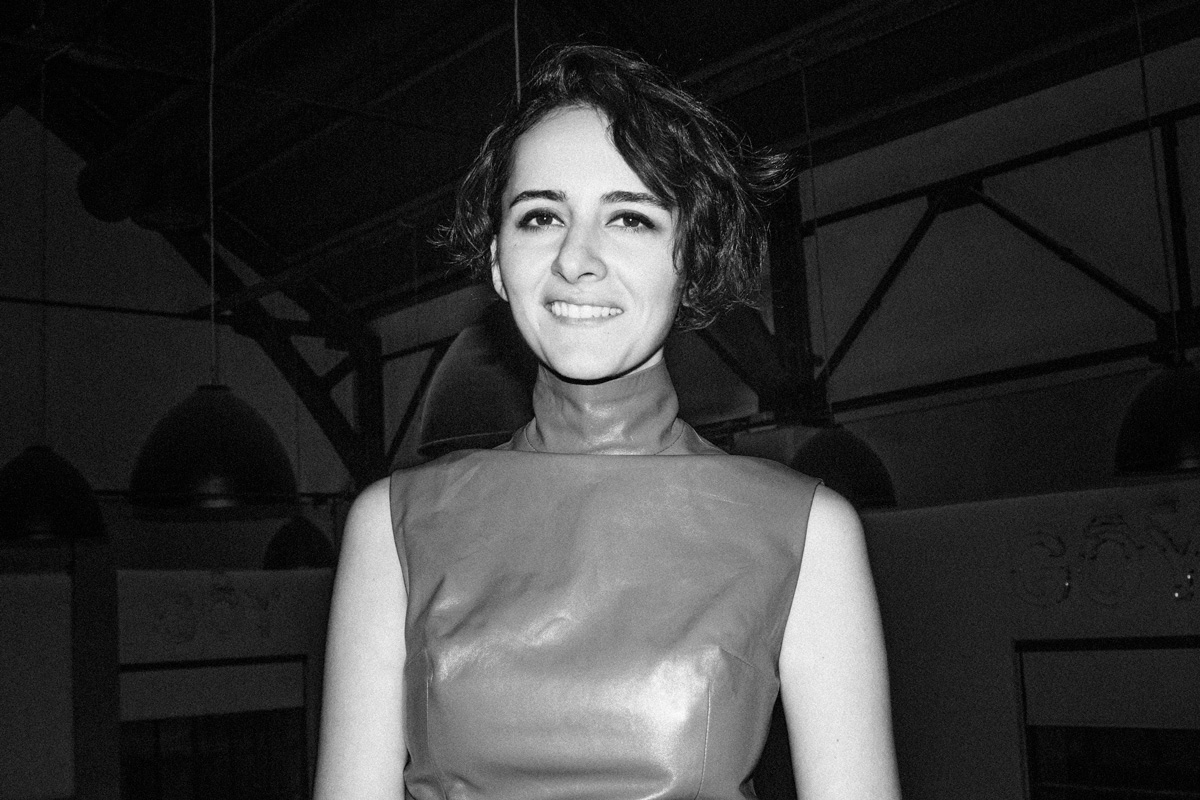 Suad Garayeva-Maleki, Baku, January 2018.
What is your definition of the term "contemporary art"?
To put it briefly, contemporary art is what artists create in the present time. And the term "contemporary art" usually refers to art made from the 1960s onwards.
What questions does it answer?
Generally I believe art should reflect the issues of its own time. It creates and follows the trends of the time in which the artist lives and works, and touches upon the problems and topics that the contemporary society is interested in.
That is, modern art should be social?
I think so. Why did art suddenly change direction in the 20th century? I think the real revolution in art as we know it happened in the second part of the last century. Artists no longer wanted to create beautiful art. They wanted art to acquire a certain socio-political role, for it to be able to carry a social message and it was no longer possible to contemplate art objects outside their context. Today, it is almost impossible to separate art from the events taking place in the world.

Making Histories: The Yarat Collection Group Exhibition, Yarat Contemporary Art Center, 2015.
The most relevant topics that contemporary art touches upon today?
Of course, there is a lot of political art, because of the total instability in which we live in: the presidency of Trump, Brexit, the refugee crisis, the countless geo-political conflicts all contribute to that. There has been a lot of art addressing environmental concerns and ecology. Similarly, the topic of inequality, racial and gender intolerance is prevalent. Everything that concerns society as a whole is reflected most dramatically in the works of artists. And then there is always technology- all aspects of the new Digital Age greatly influence art making generally - the impact of digital technology on human life, robotics, and online presence not only provide a rich conceptual framework but also present exciting new media for the artists to navigate and master.
Three must see artists?
Gerhard Richter, Anselm Kiefer, Yayoi Kusama
Is there a place for censorship in art?
In my opinion - no. But, of course, this is a very difficult question. Especially in our time, when any word or action can be construed as offensive or sensitive material. I believe that every person has the right to express themselves as they want, as long as it does not harm others. This is my personal conviction.
And how are things from the point of view of morality? After all, some artists publicly present works that frankly cause shock, or even disgust...
And this is absolutely normal and not anything new. For example, let's consider the works of Neue Sachlichkeit artists, such as Otto Dix and George Grosz, in Germany in the years between the two wars and their realistic depictions of mutilated bodies and the horrors of war. This work was intended to cause discomfort in the viewer and the grotesque is an essential component of these works. It is necessary to make a person reassess his/her views and beliefs. Today, our brain is so congested and oversaturated with pictures that it is very difficult to attract our attention. In order to cause some reaction from the public, some artists are forced to resort to extreme imagery, like the Swiss artist Thomas Hirschhorn for example. Yes, it can be completely unpleasant on the eye but it must exist in order to comment on the atrocities of our own time.
Let's talk about the curator's work. What difficulties do you face in preparation for an exhibition?
It depends on the particular project. Each project is unique and has its own peculiarities, including difficulties. Sometimes difficulties arise with logistics. Sometimes the process of production itself is complicated. For example, in Azerbaijan it is necessary to explain to the team that in exhibitions the main thing is not only the work of art per se, but also the quality of each component that goes into its making and presentation. The attitude "it will do" - this is the most frequent and terrible thing with which I have to face. You might agree, that it is a shame, if the time spent, mental and physical labor, money- all add up to a result which is neither here nor there. Until there is a solid infrastructure for producing artwork and exhibition making this will be our main problem - but we are working on it and with each show it gets slightly easier.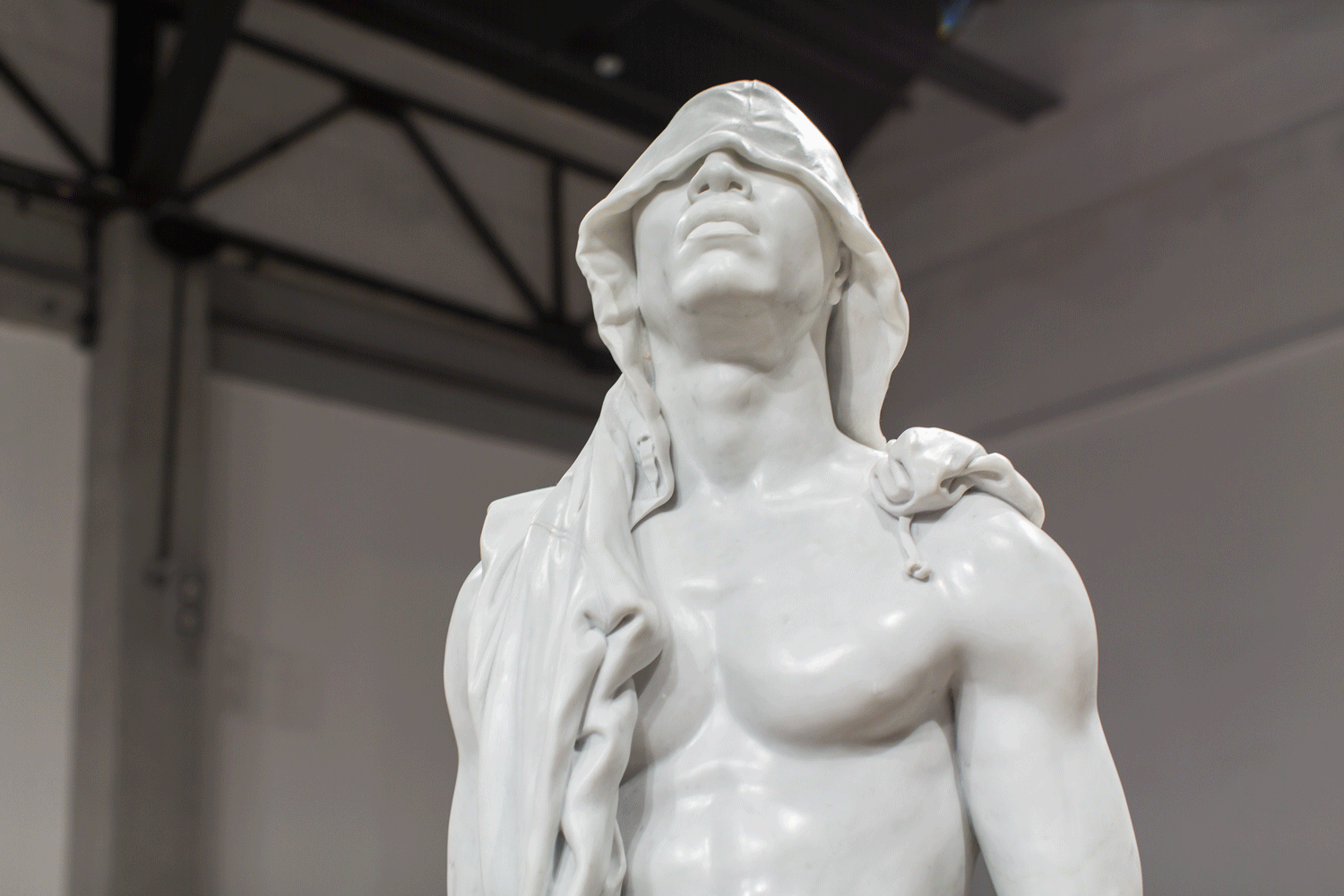 Reza Aramesh, Action 190 & Action 191,
Crumbling Down, Up and Up We Climb Group Exhibition, Yarat Contemporary Art Centre, 2018.
Is the idea for an exhibition born easily?
Not always. It is important to use not only pre-existing knowledge, but also intuition. After all, the show should be fresh and relevant, either in terms of subject matter or approach. Today the informational borders have been largely erased and it doesn't matter where the exhibition takes place - in Baku, Paris or London, it should be interesting everywhere. This is actually a complex process, but also fascinating to look for this balance between what will interest the local viewer and the international one.
By what principle do you select artists for the exhibitions curated by you?
If we are talking about thematic group exhibitions, one of which just closed at YARAT, then the original idea arises under the influence of already existing ideas and/or artworks of particular artists. One of the duties of a curator is to constantly monitor many exhibitions around the world and analyze what is happening in the art production at the moment. Based on this analysis and information, the idea of ​​an exhibition arises, for which curator begins to search for artists or works, adding up to a complete show- like parts of a bigger story so to speak. For geographical exhibitions, such as we did with Kazakh artists for YARAT, we have to study the history of a particular region, to review a huge number of works by local artists and to select the best and strongest among them.
Three must see Azerbaijani artists?
Tahir Salakhov, Javad Mirjavadov,
Boyukagha Mirzazade
What is the most interesting stage of the exhibition organization for you?
Probably, the process of discussion and exchange with artists. Especially if it is for a new commission, when an artist creates a completely new work or body of work for the exhibition. This is a sort of collaboration between artist and curator, when you are researching and looking for solutions together to realize a particular idea. I'm not an artist, but being part of this creative process which ultimately manifests in a physical work is very exciting. Maybe for that same reason I also like making exhibition catalogues, as they become carriers of the information and the impressions of the exhibition. Something to keep as a living memory of a concept which interested you for a period of time and into which you invested a part of yourself.
Is it possible to influence the opinion of the masses with the help of art? After all, let's say, it is not right to name modern art something massive?
Yes, you are right. Recently I often ask myself this question. It is an eternal existential question - "For whom and for what do we all do this?" If an artwork or an exhibition of works could influence even a small group of people in a positive way it is already a great achievement. And most importantly, art has this power - to change perceptions, to channel thoughts in the right direction and broaden horizons of its audience. This rarely happens on a massive scale perhaps, but it's also relative- some shows get millions of visitors. And when this happens - it becomes very effective. Social networks are big contributors in this case. If earlier works of artists and information about them was only available only to a small, relatively specialized audience, today, people around the world can view exhibitions in real time through social media. For example the work of the french artist JR, who has been making poignant large scale graffiti around the world for years, is now becoming an internet sensation because of the share button. That's very cool.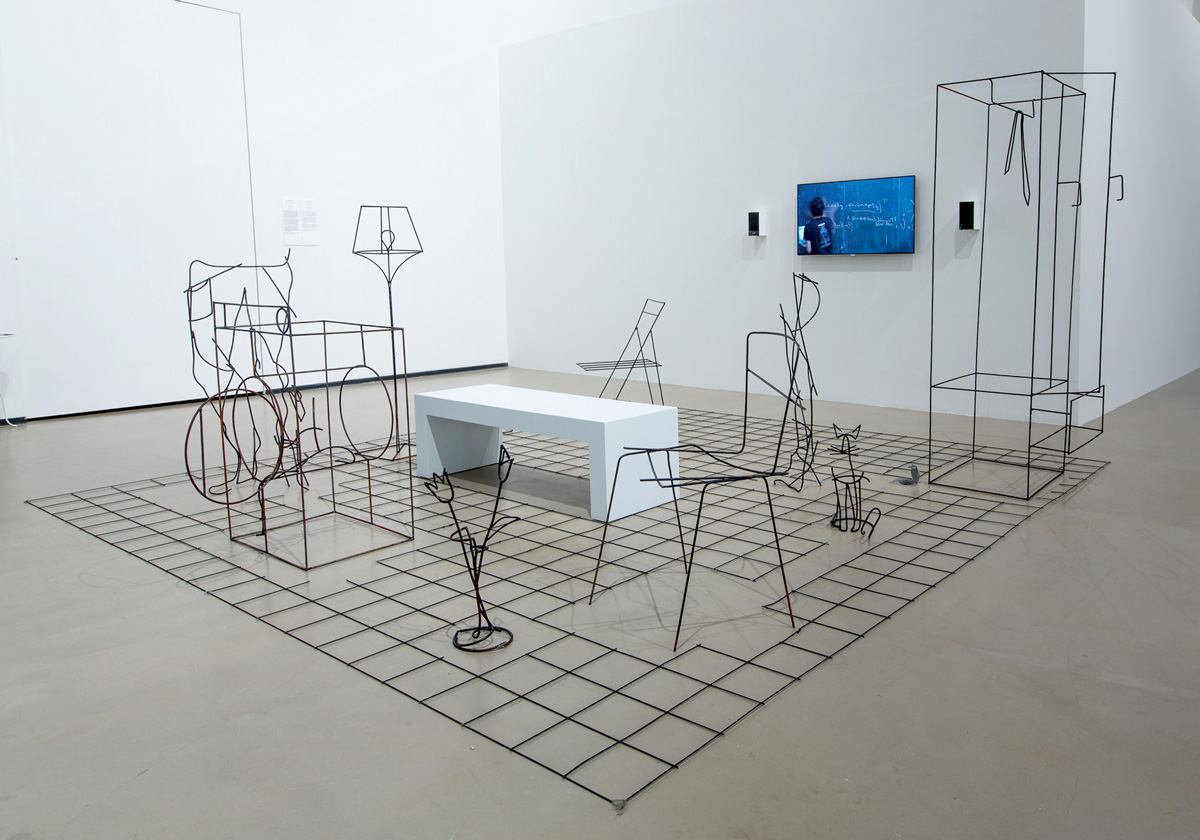 Neil Beloufa, Data For Desire, The Heart Is A Lonely Hunter Group Exhibition,
Yarat Contemporary Art Centre, 2016
What contemporary art is the Azerbaijani public interested in?
At the very beginning of our journey, as elsewhere, the majority went to contemporary art exhibitions because it was fashionable. Only a small part consisted of people really interested in art. At the moment, situation has changed. The number of people who visit our Centre and exhibitions on a regular basis has increased. Especially the youth. This greatly pleases us. Thanks to the public programmers and education events at YARAT we meet people who are interested in learning something new about art and communicate with artists across disciplines. They come, they look, they listen and most importantly they ask very interesting questions.
Tell us more about the activities of YARAT.
Our main activities revolve around our exhibition programs- we have around 5 large exhibitions by established regional and international artists at our YARAT Centre, and a platform for younger artists and emerging talent at ARTIM, a smaller space in the Old Town. In addition we always have local and international artists in residence at YARAT Studios. In 2016 we launched YARAT Academy, where we invite local and international specialists - art historians, critics, curators, artists, to conduct lectures, seminars and workshops as a sort of introduction to Contemporary Art for students, of all ages and walks of life. Public Programs function in a similar way, less as a structured program but more as a multidisciplinary event calendar open to all- we have a Film Club, which hosts free screenings and talks, Literature Nights, Performances and even musical gigs with local and regional bands under YARAT Freestyle. This is not to mention a great deal of work being done with school and children under Little Yarat. And for those who wish to follow our calendar more closely, and attend bespoke events and visit artist studios, there is the YARAT Friends platform for young patrons.
Favorite galleries?
Palais de Tokyo in Paris,
Tate Modern in London,
MoMA PS1 in New York
How do you feel about the opinion "What is not sold - is not art"?
I strongly disagree. On the contrary. The most serious art, unfortunately for artists, is almost impossible to sell. But they also need to live on something. Some of the most interesting art today is either very difficult to quantify (in terms of time based art such as performance) or is too large in format to be easily placed in a particular collection (such as installation art). Only large museums and foundations can afford it. So are actual works based on new media such as virtual reality. And in this case, the art market has not figured out how such work could be monetized, what kind of "wrapping" to be used and how many copies to be reproduced. In fact, much of contemporary art revolves around works that are almost impossible to commercialize.
How is success of a modern artist measured - in the number of zeros in a bank account, recognition or acknowledgment?
It's all very individual. There are those whose work is absolutely not commercial, but presented in the best galleries and museums in the world. Are they successful? I think yes. And there are those whose works have never been in any museum, but they are sold for huge sums. Are they successful? I think yes. Everyone determines for themselves what they count as success. Of course, PR and marketing are very important components at this day and age. A lot of excellent artists remain unnoticed only because there is no good art infrastructure around them, which includes patrons, galleries, PR companies, art dealers, and everything that includes promotion and support. And often, alas, artists acknowledgement remains localised, not having access to international venues. But, of course, PR on its own can not make an artist great. Yes, maybe it will be a banal fifteen-minute glory, as Warhol said, maybe even you will be published in a magazine, interviewed, etc., but no more. In a couple of years everyone will forget about you. There are many examples of such stories.
Even if you continue active PR?
Yes. Because if an artist does not create quality work, which is both relevant and interesting, then nothing will help. But if he grows as an artist, his practice evolves, he seeks new topics and techniques, or continues to perfect the old ones, he will remain interesting. And in this case, PR can work as an addition, but not as the main force.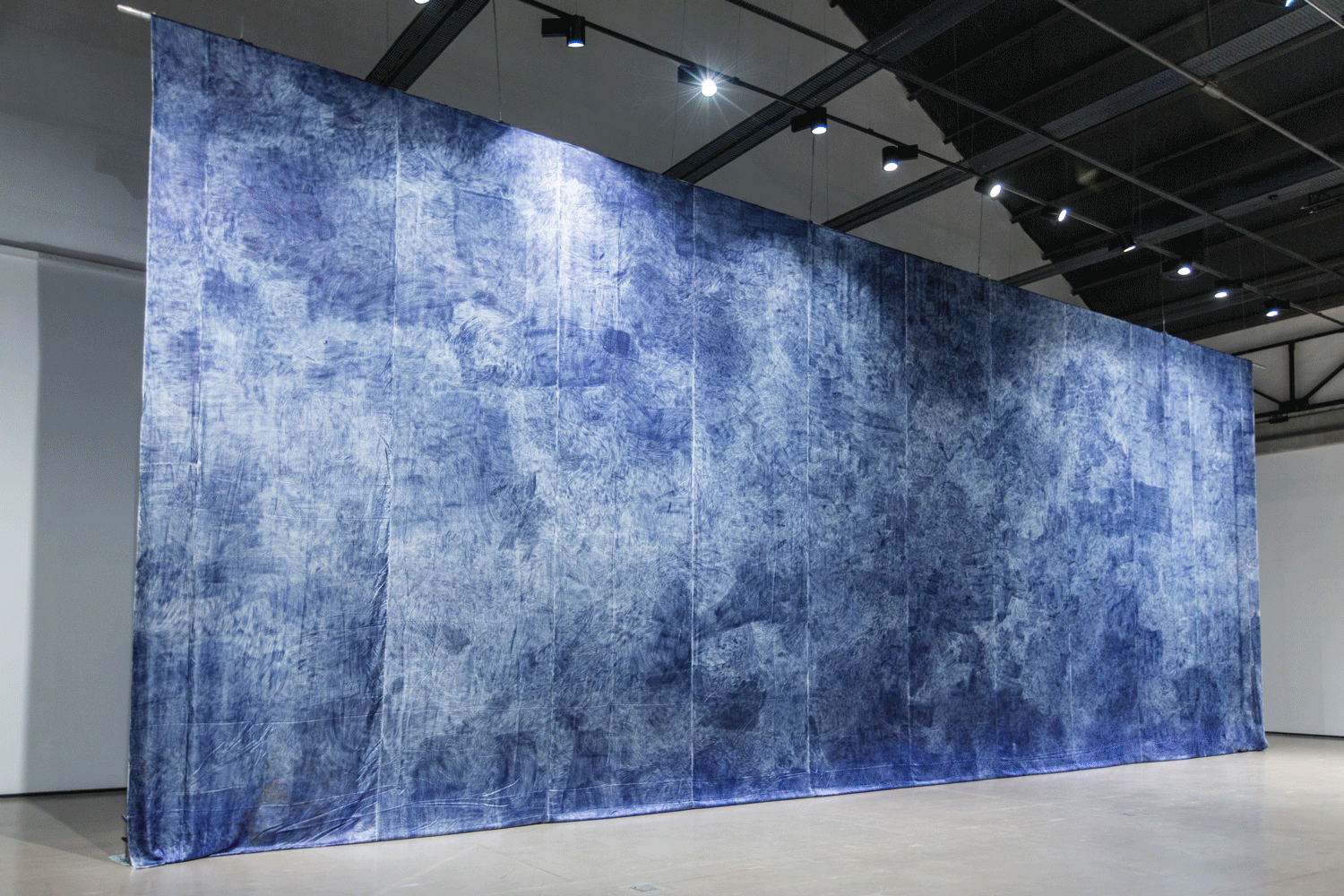 Jan Fabre, The Road From The Earth To The Stars Is Not Paved,
Crumbling Down, Up and Up We Climb Group Exhibition, Yarat Contemporary Art Centre, 2018
Should artists have a status of celebrity?
Everything is relative. From my personal experience and observations, I can say that if an artist becomes very famous at a very early age or at the very beginning of his journey, little good will come of it. Of course we live in the world of instant media and recognizability and there is nothing wrong in that. I am also not saying that an artist should only become famous at the end of their career. But, when you are 20 years old, you just graduated from university, and your work is already sold for literally millions, there is nothing great about it. This often inhibits the development of artist, and they turn into so-called "flavor of the month".
And what about vanity?
I do not think that an artist should be vain. But, if it helps his or her work, then why not?
What is the phenomenon of Mark Rothko? Do his works really cost millions?
Yes, the works of Mark Rothko are worth this money. Of course, these are fantastic amounts, which is difficult to imagine for someone outside of this art world. And to imagine that they can be given for a picture is almost impossible. But, you need to correctly formulate the question - "Do Mark Rothko's work stand out in comparison with the work of other artists?" Of course, yes! This man created something completely unique. He created a whole direction in art, which will remain forever a part of its history. Therefore, his works are valuable not only from an aesthetic point of view, but also from a historical point of view. They represent an entire epoch in art.
A song for all time?
Michael Jackson - In the Closet
So everything depends on who was the first?
Not really. It is not only about who created something first, but also why it was created. After all, Rothko and his colleagues went against figurative art. They pondered on the meaning and purity of form and color, even laid out a whole theory around it as a foundation of Modernism as we know it. After all, not only artists, but also theorists, philosophers and thinkers of that time took part in this.

300 Words On Resistance Group Exhibition, Yarat Contemporary Art Centre, 2016
What do young modern Azerbaijani artists lack?
Perhaps there is not enough innovative education and a lack of exposure to international art scenes. But, it is all changing. There is always the Internet, we have YARAT, Gazelli Art House also recently opened their Baku space. This means that local infrastructure is developing and gradually growing.
Are there any positive aspects?
Firstly, I think we have a lot of unexplored subject matter here, so it is a fertile ground for exploration and experimentation. But I am also happy that more Azerbaijani artists began actively applying for art residences abroad. This is also one of the ways of self-development. And this is important not only from the point of view of seeking inspiration, but also networking with other artists, galleries and curators.
Advice for aspiring artists?
Learn the history of art and find or make your place in it.
Photo Courtesy : YARAT Contemporary Art Centre